Corona virus - COVID-19
- 18/03/2020
Due to more restrictive measures with regards of Covid-19 pandemic, please expect delay in our service.
We will still process the samples intended for Sanger sequencing, delivered to our building by post or you (drop them in the Blue container in the SAS-Entrance and do not enter to the reception area) but cannot promise normal turnaround until end of restrictive measurements implemented to prevent further spreading of Covid-19 virus.
We also cannot provide in advance information on when you can expect your results. All the samples that reach, us will be properly stored and processed as soon as possible. Any not yet requested 2nd or 3rd generation sequencing projects will be on hold until further notice
---
Corona virus - COVID-19
- 13/03/2020
Due to Covid-19 pandemic regulation we are working with limited staff and cannot guarantee the timely service for the samples delivered
after 13/3/2020
. All the samples that have been already sent and are delivered by end of 13/3/2020, will be processed.
Due to suspension of administrative services samples sent after 13/3/2020 might not get delivered to our Center. If the samples reach our center we will store them accordingly and process them according to our capabilities but might be only, upon lift of the restrictions.
---
For any questions please contact us via email (gsf@uantwerpen.be) or on tel. number: 03 2651108. We apologize of any inconvenience that might cause but wellbeing and safety is our priority. Thank you for understanding,

NSF team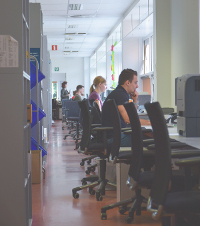 Neuromics Support Facility (NSF) is a competence center providing services and training in the fields of genetics, genomics, transcriptomics, bioinformatics, histology and cellular imaging. Our vision is to maintain state-of- the-art, reliable, efficient and flexible support to the main research activities of the VIB-UAntwerp Center for Molecular Neurology (CMN).

Our responsibilities include evaluation of the novel scientific and commercial tools and technologies, consultations, user training and experiment design support in all areas of our proficiency. Neuromics Support Facility is led by Dr. Mojca Strazisar and includes three technological and expertize sectors.