Service alert
- 04/11/2020
Due to unforeseen circumstances no Sanger sequencing orders arriving at our Facility from 4th November will be processed before 9th November. Thank you for your patience!
---
For any questions please contact us via email (gsf@uantwerpen.be) or on tel. number: 03 2651108.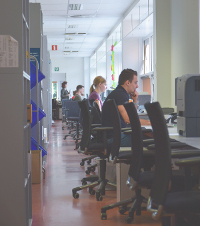 Neuromics Support Facility (NSF) is a competence center providing services and training in the fields of genetics, genomics, transcriptomics, bioinformatics, histology and cellular imaging. Our vision is to maintain state-of- the-art, reliable, efficient and flexible support to the main research activities of the VIB-UAntwerp Center for Molecular Neurology (CMN).

Our responsibilities include evaluation of the novel scientific and commercial tools and technologies, consultations, user training and experiment design support in all areas of our proficiency. Neuromics Support Facility is led by Dr. Mojca Strazisar and includes three technological and expertize sectors.